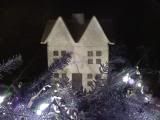 I had full intentions of going all primitive this Christmas, I was going to make decorations, etc. Then I went to Wal-Mart and found these really pretty brown, bronze and cream colored bulbs and I had to have them, they were so pretty, oh, I said that already. The white glittered houses my mom got me several years back at a primitive store. The tree came from
Village Primitives
a few years back, it came flocked and has big pine cones tucked in it. I used real pine for everything else. I have a limited decorating space right now:(, but at least I have some space!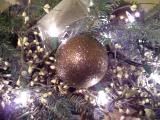 My obsession with pip berrys doesnt end, I have them tucked in the pine on the entertainment center, with ribbon that came from the dollar store for a buck!
Bad lighting, but you get the idea. The window came from an old building here from when we first moved in. I busted the last of the windows out of it and gave it a slight touch of white paint , but left it looking old, of which , it is.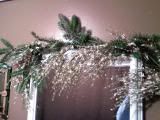 On to the bathroom, the tiniest room of all. No, those arent pip berrys, but tiny flowers. They reminded me of pine limbs with snow on them, so I mixed it with more real pine. It smelt really good at first , but not its starting to dry.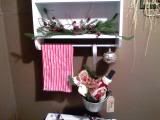 The cabinet I added more pine and some red berrys that I already had. The metal bucket came from a yard sale for .75 cents.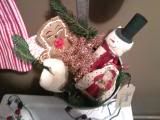 I made the snowman several yrs ago with material and a toilet paper roll. Most of the others are old ornaments that I had too.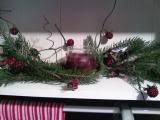 Well, thats about it for now, I may have more Christmas goodies this afternoon. .......MERRY CHRISTMAS..........