Im having technical difficulties this afternoon. It seems I can not remember how on earth to post my pics from my photo bucket account. Im thoroughly confused now, which isnt much different from any other day. Anywho, Ive been doing laundry and baking today, all the while Ive been listening to Christmas music...yes...the entire day...Christmas music..I love it!
So, I made these truffles for the first time. I found the recipe for them and the following cookie on a coupon leaflet from the store.
Simply Sensational Truffles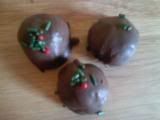 2 1/2 pkg. bakers semi sweet chocolate
8 oz. cream cheese, softened
sprinkles or chopped nuts for decoration
1) melt 8 chocolate squares
2)beat cream cheese with mixer until creamy
3)blend in melted chocolate
4)refridgerate till firm
5)shape into 36 balls and place on wax paper on baking sheet
6)melt remaining chocolate and roll truffles in melted chocolate with 2 forks
7)return to baking sheet and decorate, then refridgerate for 1 hour
These were REALLY EASY!
Easy Pudding Cookies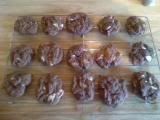 1 cup butter softened
1 cup packed brown sugar
1 pkg chocolate instant pudding
2 eggs
2 cups flour
1 tsp baking soda
1 pkg bakers white chocolate, chopped
1)heat oven to 350. beat butter and sugar in lg bowl with mixer till light and fluffy. add dry pudding mix, beat until blended.add eggs, mix well. gradually add flour and baking soda, beating till well blended after each addition. stir in chocolate.
2)drop tbls of dough onto cookie sheet, 2 inches apart
3)bake 10-12 min. or until edges are lightly browned.cool 1 min on baking sheets then transfer to wire racks to cool completely.
These are really good too!!!